First impressions are critical. Just like the view from the curb may prevent a buyer from getting out of the car, the view inside the house determines whether they make an offer. Buyers need to be able to imagine themselves living in your home, or perhaps more to the point, they need to envision your home as theirs. You can accomplish this by staging your home.
Home staging is the process of preparing your home for sale to make its best impression on prospective buyers. It can be as simple as cleaning the house and putting out fresh flowers or as complicated as hiring a consultant to determine what furnishings and decorations best suit your home while it's on the market. Big budget or small, how you present your home to potential buyers can affect how quickly it sells.
Cleaning and decluttering are essential. The whole house should sparkle – especially kitchens and bathrooms. Clear off counters and organize cabinets and closets. Too much "stuff" is distracting and makes spaces feel cramped and small – definitely not a good impression. Remove furniture that blocks the natural traffic flow, being sure there is a clear walkway to all windows and that the windows and screens are clean.
Visual cues help buyers process your home's features. Keeping room decor simple makes it easy to ascertain a room's purpose. A bed and a dresser in a room with a closet are all it takes to show that a room can be used as a bedroom. A table with chairs identify a dining area, formal or otherwise. Staging rooms for their traditional purpose helps buyers understand your home. Whether the final buyer decides to use rooms the way you show them doesn't matter.
There is a lot you can do yourself to get your home looking its best. Consult with your real estate professional before you start any projects to be sure that the payoff is worth the investment. Remember, once you decide to sell your home, it's a good idea to behave as if it isn't your "home," anymore. Cutting the emotional ties makes it easier to get your "house" sold fast.
1. NO CLUTTER. Throw out old newspapers and magazines. Pack away most of your small items like figurines and other trinkets. Store clothing that won't be used in the near future to make closets seem roomier. Clean out the garage. Buyers like to visualize their possessions in the house and that is hard to do when the home is full of clutter.
2. Wash your windows and screens. This lets more light into the interior and dirty windows are a turn off.
3. Keep everything extra clean. Wash fingerprints and dirt from light switch plates. Clean the floors, stove, refrigerator, washer and dryer. A clean house makes a better first impression and tells buyers that the home has been well cared for.
4. Put brighter bulbs in light sockets to make rooms appear brighter, especially dark rooms. Replace any burnt-out bulbs. Turn all lights on before buyers come to view the home.
5. Make all minor repairs that you can find. Everything you don't repair now will be revealed in the home inspection and can create a bad impression. Small problems such as sticky doors, torn screens, cracked caulking, cracked receptacle covers or a dripping faucet may seem trivial, but they'll give buyers the impression that the house isn't well maintained.
6. Shoot for good curb appeal. Cut the grass, rake any leaves, trim the bushes, and edge the walks. Put a couple of bright potted flowers near the entryway to cheer things up and get the buyers attention.
7. Patch holes in your driveway and reapply sealant, if applicable.
8. Clean dirty gutters.
9. Polish or replace your front doorknob and door numbers.
10. Get rid of smells. Clean carpeting and drapes to eliminate cooking odors, smoke, and pet smells. If carpets are old and need replacing, it is worth while to replace them. The additional price you receive for your house will most likely outweigh the expense. Open the windows. The number one turn off to a potential buyer is an unpleasant odor.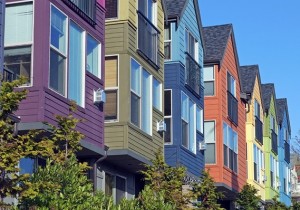 Love at first sight is a concept that applies to the real estate market. So, what is the best house color to sell your home to a love struck buyer?
Best House Color to Sell
When you go to social events, do you make an effort to snazzy yourself up? Of course you do. The simply fact is attraction is a key factor in forming relationships and the same applies to your house. When you put the house on the market, you need to make it look good for the dates with potential buyers. The color of your house can make all the difference.
First, there is no absolutely correct answer to the best color. Instead, the decision depends on the makeup of your home and the surrounding landscape. Let's take a look at some issues:
1. Whatever color you choose, make sure it doesn't clash with the other homes in the neighborhood. An otherwise appropriate color could end up making your house an eye-sore.
2. The Roof. What color is the roof on your home? If it is a red tile roof, off-whites are probably going to be the best choice. Dark green will not. Unless you are going to invest money in a new roof, make sure the paint color doesn't clash with it.
3. Highlights. If there is a particular part of your house that should be emphasized, used light colored paint around it to draw attention.
4. Hide It! Conversely, if there are parts of the house that are mundane, use darker colors to draw attention away from them.
5. On large flat surfaces, such as the side of a garage, keep in mind the color you choose will have a washed out appearance.
Now we get to the fun part. After considering the above issues, make a preliminary list of colors and buy small cans of each color. In a private area of the house, start applying samples strokes a couple feet long and a foot or so wide. Try to paint examples in both shaded areas and those exposed to the sun.
Do not immediately judge the results of your experiments. Instead, wait a few hours for the paint to dry and then start comparing. Dry paint takes on a very different appearance than wet paint.
Once the paint is dry, take a long look at each sample. You will typically find the colors look much different than you thought they would. You may find one color is perfect or you may find something a little different would be best. Either way, you'll have come up with the best house color to sell your home.